Inspection of riser pipes on ENAP offshore platform Chile. The newly developed version of the 4" ultrasonic inspection robot has passed its baptism of fire in practice. It was used on the ENAP offshore platform in Chile just off the coast of Patagonia.
The prototype which was newly developed with ApplusRTD b.v. successfully carried out the inspection of two vertical riser pipelines each 30 meters in length. The wall thickness of the 4" pipelines of the pipes required for crude oil extraction was determined.
Development of a flexible 6"- 8" ultrasonic inspection robot is in full swing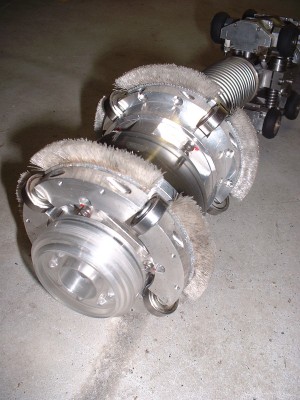 Based on the 4" ultrasonic inspection robot Inspector Systems is currently developing in conjunction with Applus RTD b.v. a second inspection robot for determining the wall thickness in the 6"-8"range.
This is based on the proven flexible structure of the Inspector Systems pipe robot with several drive elements and ultrasound technology in connection with ApplusRTD's Pitmapper software.
The inspection robot will be able to travel over pipeline lengths of up to 250 m and check the wall thickness 100%.
Due to its flexible structure, bends with a radius of 1.5D and vertical pipeline sections can be overcome backwards and forwards.
The pipe robot is being developed for ambient pressures of up to 10 bars. The development of the prototype is anticipated to be concluded in the summer of 2008.