The development of a special grinding robot was one of the design challenges that INSPECTOR SYSTEMS had to meet in 2008. In Olkiluoto, an island off the west coast of Finland, block 3 of a newly developed European Pressurised Reactor (EPR) has been under construction since 2005.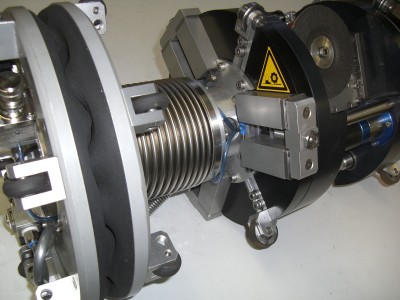 Two blocks have already been in operation for years. The French company AREVA NP, one of the leaders in the development and building of reactors requires this robot for working on the circumferential seams in the surge line.
The various welding seams in this pipeline have to be ground in accordance with the customer's specifications.
In addition to the proven bendtaking and climbing ability of the grinding robot, equipped with a powerful grinding motor with an integrated rotary and drive unit, a pneumatic plug was also fitted to the robot itself. This guarantees that the preceding pipeline section is protected from grinding dust.
Furthermore, on the grinding robot itself a suction unit for the unwanted dust particles was adapted. The requirements of the French customer can thereby be met in full.
As a result, the necessary qualification of the grinding robot was confirmed in October 2008. Its use on the construction site in Northern Europe is planned for 2010.
On the basis of AREVA NP's good experience with INSPECTOR SYSTEMS in the management of the project, a further order followed at the turn of the year for the nuclear reactor at Olkiluoto.
The client is the well-known company BHR Hochdruck-Rohrleitungsbau GmbH from Osterode.
This order involves the development skills of INSPECTOR SYSTEMS for four special grinding robots. For reactor 3, which is currently under construction, the tried and tested grinding robot technology is fallen back on for the qualified grinding of the internal welding seam roots.
The grinding robots cover pipe diameters of DN 100 to 500, can traverse fittings, bends and vertical pipeline sections and will be used in the primary circulation of the nuclear power station. Especially in this sensitive circulation system, which is being constructed by BHR, the welding seams have to meet very high safety class requirements. A fully ground inner surface must be produced.
Over one hundred welding seams are to ground by the robots from Rödermark, which will take place during the assembly of the pipelines.