In 2010, as part of routine annual overhauls in two German nuclear power stations, the internal coating of various underground cooling water pipelines was fully inspected using INSPECTOR SYSTEMS pipe robots.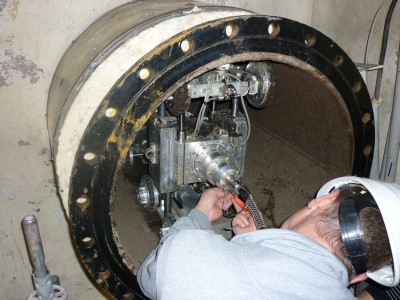 The INSPECTOR TYPE 5000 and INSPECTOR TYPE 6000 pipe robots were able to visually inspect the tar epoxide-coated cooling water pipeline systems with diameters DN 300 and DN 700 in uncleaned and slippery condition. Over a total length of up to 250 metres, which included various bends, the pipe robots were able to travel through the pipeline systems from just one access point and in addition to the visual inspection also carry out point by point classification with the built in laser.
The inspection of a 250 metre long pipeline section, including all preparatory measures, could be completed in just one ten-hour shift. This short inspection period could be achieved through this unique and field-tested robot technology by INSPECTOR SYSTEMS and the excellent specialist skills and nuclear power station experience of the personnel, as well as their willingness and ability to respond immediately to scheduling requirements and customer wishes. In another German nuclear power station a concrete-coated DN 700 cooling water pipeline could be visually inspected over a length of 120 metres. This too had various bends, and, in particular, also a pipeline section ascending at an angle of around 30°. A video document and test protocol were produced over the entire length of the various pipelines.
On the basis of the specialist check by INSPECTOR SYSTEMS the coating condition of long underground pipeline sections could be determined and submitted to the assessor within a very short period of time – entirely without having to expose the pipeline or open it at various points. This saved time and considerable follow-on costs.