Popularity unbroken: World's largest civil nuclear fair confirms status quo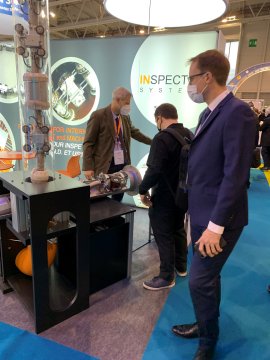 For the first time after 2018, the 4th edition of the World Nuclear Exhibition took place - after several postponements due to the pandemic. At the end of 2021, the leading trade fair was able to attract a large number of international visitors from 76 countries. As one of a total of 612 international exhibitors, INSPECTOR SYSTEMS was once again represented with its own stand, as in 2018.
INSPECTOR SYSTEMS was able to draw a positive conclusion because it has established itself as a supplier and service provider in the nuclear industry. In addition to the numerous discussions with new interested parties, our many existing customers confirmed their satisfaction with the progress of past and current projects. In particular, they emphasised the quality of our products and our commitment to deadlines. We would like to thank them for their trust...
We will be exhibiting again at the 5th edition of WNE, which will take place again in Paris from 28 to 30 November 2023, and we are already looking forward to the many interesting discussions with you.